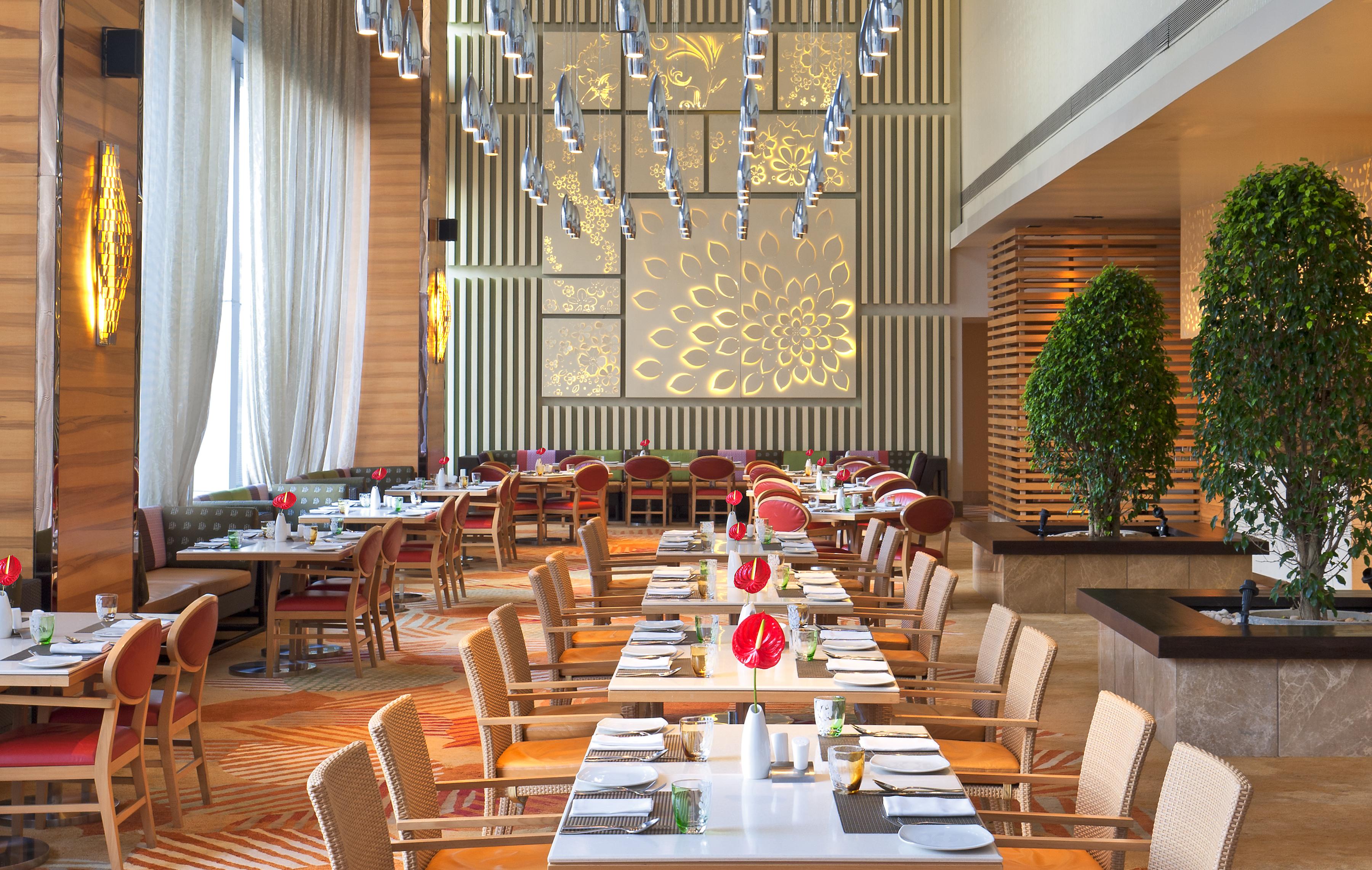 FEAST
Celebrate life's lighter moments at Feast, the hotel's all day dining venue, and experience a different kind of aromatherapy. Serving up some of the world's most celebrated cuisines the only way it should be- as a smorgasbord of a buffet, come share your favorite stories and celebrate the good times with loved ones over a feast!
A special Sunday brunch is also served up every week- already a favorite amongst families.
Click here for more details on.
Location: Lobby
Cuisine: International
Capacity: 150 covers
Buffet: Breakfast: 06:30am-10:30am, Lunch: 12:30pm-3:30pm, Dinner: 06:30pm- 11:30pm, Sunday Brunch: 12:00pm- 4:00pm
A la carte: 06:30am-23:30pm
Atmosphere: Casual
To make a table reservation, contact: (91) (0)80 42520133
Lobby Lounge
Adjacent to Feast and the Link@Sheraton, get connected to your friends and work at the Lobby Lounge. Serving up some of Sheraton's most well kept secrets; from the juicy Sheraton club sandwich to the zesty Sangria you won't be able to get your mind off; it's the perfect venue for small get-togethers and informal business meetings.
Location: Lobby
Capacity: 60 covers
Cuisine: Snacks and cocktails
Hours: 11:00am-11:30pm
Atmosphere: Cozy
Phone: (91) (0)80 42520144
Bene
Reminiscent of a modern Italian diner, Bene welcomes you to an afternoon or evening of food and drink served with a dollop of Italian TLC. Savor on pizzas prepared live at the pizzeria in a wood-hearth oven, and get spoilt for choice with the range of pastas and main-courses to choose from; all freshly prepared in spices grown homemade from our spice garden. With all that and more there's no wondering why Bene has been named the best Italian restaurant in the country.
Location: 4th floor
Capacity: 140 covers
Cuisine: Italian
Hours: Lunch: 12:00pm- 3:30pm, Dinner: 6:30pm-11:30pm
Atmosphere: Homey
Phone: (91) (0)80 42521000
Persian Terrace
When dusk falls on Bangalore, the Persian Terrace invites the discerning guest to experience the wonders of an arabian night. A completely al-fresco seating under the starry-starry night sky and over-looking the ISCKON Temple, prepare to get swept away to the mythical land of the Shahs . The smell of mouth-watering kebabs waft through the evening breeze as you sample on some of the finest pilafs and mezzes to grace a dinner plate. Come and experience the magic and wonders of the restaurant in the city.
Location: 4th floor terrace
Cuisine: Iranian
Capacity: 80
Hours: Dinner: 6:30pm-11:30pm
Atmosphere: Elegant
Phone: (91) (0)80 42521000
Pool Bar
Located next to the pool on the 4th floor, the Pool Bar is ready to serve the hotel's most popular menu items to the hungry swimmer or sun-bather. Overlooking the city and the world famous ISCKON Temple, the pool bar is an ideal place to enjoy a breezy afternoon while soaking up some of that Vitamin-D.
Location: 4th floor pool side
Cuisine: International
Capacity: 27
Hours: 11:00am-7:00pm
Atmosphere: Out-doors
Phone: (91) (0)80 42521000