LET WELLNESS SHINE ON YOU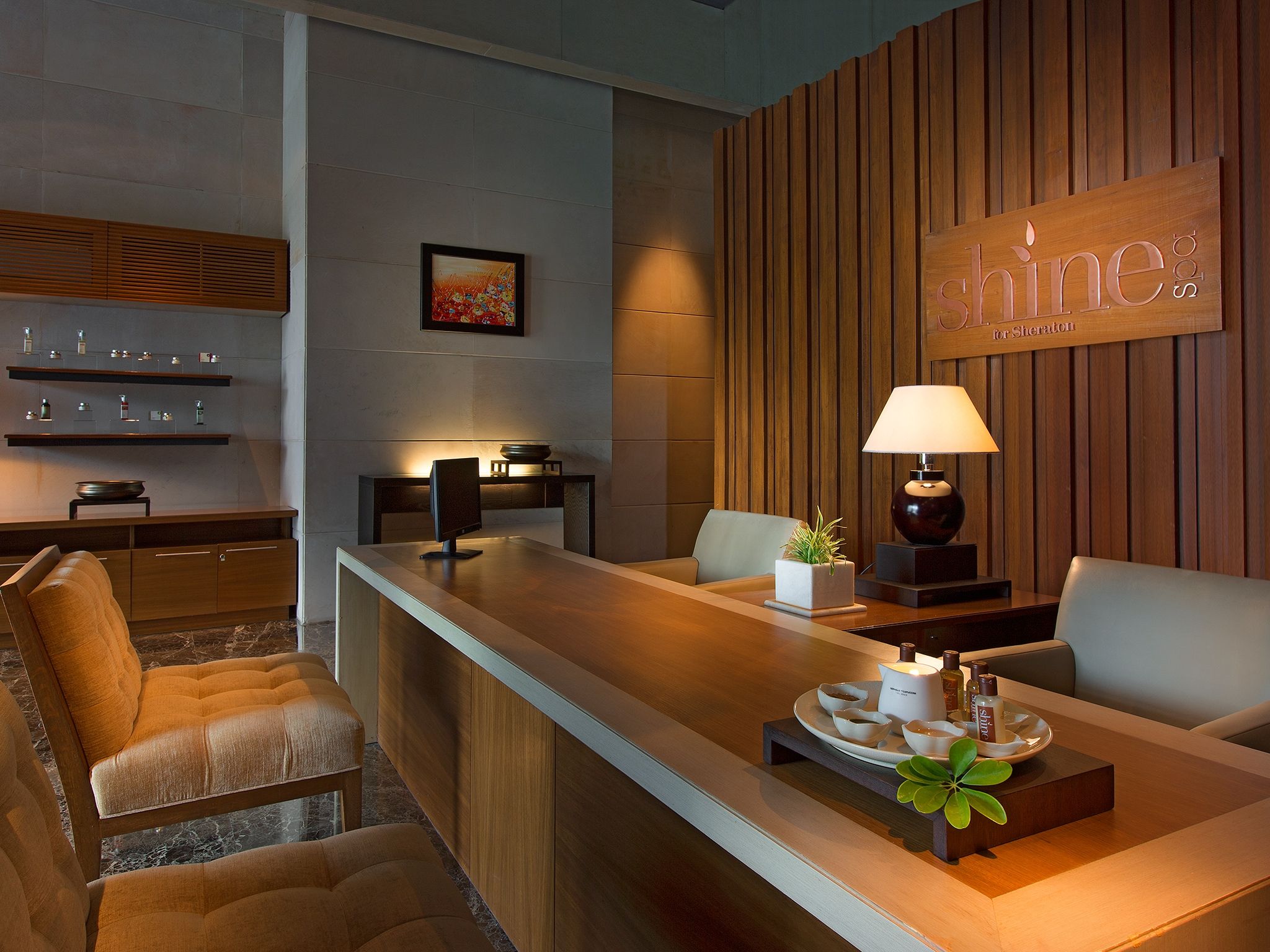 Shine Spa for Sheraton™ presents you with a luxuriously soothing environment. Its warm atmosphere and welcoming therapists will help you recharge and relax. Our spa consists of ten treatment rooms covering 945 square metres of contemporary splendour, dedicated wholly to uplifting your senses.
Warm, relaxed muscles will help the therapeutic benefits of your treatment, so allow plenty of time to enjoy our steam bath beforehand. Each treatment begins with a signature foot ritual, which gives your therapist a chance to connect with you and customise your experience. After your treatment, share a note of gratitude or a joyful message on our glow board.
Shine Spa for Sheraton™
| | |
| --- | --- |
| Ambience: | Soothing, contemporary setting |
| Spa Dining: | Snacks and juices |
| Special Facilities: | Couple's suite, Jacuzzi, steam bath |
| Spa hours: | 9:00 AM to 11:00 PM |
| Call The Spa: | +91 80 4252 0230 |
Interested in making a booking? Contact a Spa agent, and book a treatment today.
Massages
SHINE MASSAGE*
60/90 minutes INR 4500 | INR 5500
Alleviate tension as lavender fragrance massage oil is lightly poured onto your body with customized massage strokes. The essences are smoothed onto the skin, leaving it glowing, nourished and hydrated. Enveloped in a subtle fragrance, you'll experience complete physical and mental relaxation.
HOT STONE MASSAGE
60/90 minutes INR 4000 | INR 4900
Melt your stress away with hot stone massage using smooth, heated basalt stones. The warm stones are placed in tension prone areas and soothe muscles through right massage techniques.
THAI MASSAGE
60/90 minutes INR 3750 |INR 4750
Thai massage is indeed a sublime body work out that involves passive stretching and dry massage strokes to attain a true level of relaxation. This massage is performed without oil.
INTENSE MUSCLE RELEASE
60/90 minutes INR 4000 | INR 4900
Time to get deep and meaningful with your muscles, Deep tissue massage uses focused, intense pressure to penetrate to deeper layers of muscle to untangle the knots and ease out chronic muscle tension.
SWEDISH MASSAGE
60/90 minutes INR 3750 | INR 4750
An enhancing body massage designed to transport you into a state of deep relaxation. Using long strokes this classic massage style relieves tension & strain, soothes minor muscle aches.
ABHYANGA MASSAGE
60/90 minutes INR 4000 | INR 4900
This ancient Indian treatment using warm herbal oil is designed to improve circulation, remove toxins and relax the nervous system. Therapists use long flowing massage strokes to bring balance and harmony. The treatment ends up with application of herbal paste on the skin to regain moisture.
BALINESE MASSAGE
60/90 minutes INR 3750 | INR 4750
A traditional Indonesian massage of gentle stretches & acupressure to simulate the flow of blood, oxygen and "qi" (energy) around your body to bring in deep relaxation and wellness
JET LAG CURE
60/90 minutes INR 3750 | INR 4750
Ideal for invigorating us well as relaxing the entire body, the pleasantly strong fragrance provided by lavender fragrance massage oil tones up the body, a process triggered through soothing long stroke massage movements.
FOOT MASSAGE
30 minutes INR 2000
This healing art of ancient origin stimulates predefined energy points on feet to relieve pain and stress
INDIAN HEAD MASSAGE
30 minutes INR 2000
Indian head massage uses different strokes and pressure to benefit tension headaches and eyestrain.
BACK / NECK / SHOULDER MASSAGE
30 MINUTES | INR 2000
Take a moment to renew with this massage
that targets tension spots in the back, neck and
shoulders.
Facials
SHINE FACIAL *
70 minutes INR 5200
This enriching brightening treatment using mother
of Pearl and Diamond is designed to reduce sun
damage & helps improve your skin's tone, clarity.
The treatment improves the appearance of dull skin
tone & re-mineralizes the skin. It also aids in the
stimulation of collagen production to help tighten
the skin and reduce fine lines. The skin looks more
youthful and radiant, perfect for an instant glow
on special occasions or for a skin maintenance
treatment.

RADIANCE FACIAL
60 minutes INR 3800
This treatment helps refine skin texture, tightens dilated pores and brightens the complexion. Deeply moisturizing and healing. Recommended for dehydrated skin dilated uneven texture
DEEP CLEANSING FACIAL
60 minutes INR 3800
This purifying treatment to balance and soothe sensitive skin that is easily reactive to harsh climatic conditions and to remove impurities
FOR MEN
60 minutes INR 3800
A nourishing facial especially formulated for men with a complex exfoliation and a soothing moisturizer to soothe razor burn. Excellent to reduce deep lines and improve the condition of sun- exposed skin.
EXPRESS FACIAL
30 minutes INR 2500
A quick customized face treatment that cleanses and exfoliates your skin and brings glow.
ORGANIC FACIAL
60 MINUTES | INR 4500
Revel in the luxury of organic facial for a radiant
skin you crave for. Effective for treating all skin
types, this treatment is very helpful in lightening
skin tone and promises a luminous glow at all times.
EYE TREATMENT
30 MINUTES | INR 2500
A rejuvenating eye treatment for a look that is
noticeably younger and fresher. Using specialty
Diamond eye creams and Collagen gel masks, it
gently treats your delicate eye area's fine lines, dark
circles, and puffiness while hydrating and restoring
elasticity.
ORGANIC EYE TREATMENT
30 MINUTES | INR 2500
This ancient beauty secret is formula with a
concoction of sun-dried pure herbs, dried flowers
and naturally found medicine roots to rejuvenate.
helps in firming, dark circles, all eye concern.
Add on eye lift and eye care to any facial @
INR 1500
Body treatments
SHINE BODY *
90 minutes INR 5500
An immediate solution to recapture a youthful body! It combines two iconic spa therapies into one unique professional spa treatment to tighten, firm and infuse the skin with long lasting radiance. This glowing head to toe body treatment consists of body elixir, micro massages gel, body wrap, and luxurious body moisturizer.
MARINE MUD WRAP
30 minutes INR 2500
Fresh flowers, fruit juices, vegetables and herbs, blended with absorbent clays for deep cleansing, toning and rejuvenating the skin.
DETOXIFIYING WRAP
30 minutes INR 2500
This wrap draws out toxins and purifies skin while retaining its natural moisture balance. The orange extract in the wrap revitalizes and tones up the skin
MARINE SALT SCRUB
30 minutes INR 2500
Cold-pressed almond and olive oils and natural sea salt are blended with essential oils, herbs & spices to make your body smooth.
INDIAN SPICE SCRUB
30 minutes INR 2500
Made from finely ground pulses, nuts & herbs help deep cleanse the pores, remove dead skin cells and stimulate blood circulation.
Hands & Feet
Our signature care for hands and feet include soothing soaks, exfoliating with tropical line aromatic scrub, extended massages with hydrating calming cream.
SHINE HANDS AND FEET *
90 minutes hands and feet INR 5000
Soak in a warm aromatic bath, followed by a hand renewing exfoliation and a foot-softening treatment. A deeply hydrating mask is applied to the hands and feet to activate circulation through fruits based extracts. The treatment finishes with a cream to nourish, repair and protect the skin from environmental stress.
Packages
SHINE FOR TWO*
60/90 MINUTES | INR 7800 | INR 8800
Begin a relaxing journey with your companion
through the application of lavender fragrance
massage oil, relieving and re-energizing your entire
body. Pressure points are further stimulated to help
de-stress, resulting in a sense of calm comfort and
leaving you luminous.
SHINE TOUCH
120 minutes INR 6000 for couple INR 10,000
This treatment consists of choice of scrub, full body massage and shine bath (Jacuzzi)
SHINE ESSENCE
190 minutes INR 9500 for couple INR 16,000
This treatment consists of scrub or wrap, full body massage and facial of your choice for 60 minutes.
SHINE CHOICE
240 minutes INR 13000 for couple INR 22000
Customize your own treatment from the list of
massages, scrubs, wraps, and any facial of your
choice for 60 minutes. Conclude the treatment with
shine bath (Jacuzzi) and a choice of veg/ non veg
snack with a healthy juice.